DMF RAPID AUTO ROLL DOOR
Rapid auto roll doors, also known as high speed roll doors are a type of doors commonly used in a variety of industrial workspaces, where rapid opening and closing of tall barriers are required, seeing use in industries such as electronics, precision machinery, logistics, food, auto repairs, just to name a few.

DMF rapid auto roll doors feature inherent thermal insulation, anti-dust, anti-wind and anti-odour nature, which can be customized based on requirements of specific industries and workplaces. They are indispensable in helping to save energy and improve workflow through providing better environment for various operations.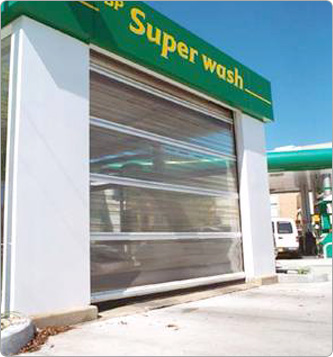 Technical Facts:- RL3000B
Features (* Other sizes may available on request)
Max Size: (W x H)*:6000 mm x 6000mm
Fabric Thickness: 2 mm thick
Fabric Type/Panel: Duracover panel with full width clear section
Aluminium Wind Rail: 2 nos.
Colour: Blue, Orange, Red or Grey
Side Column Material: Standard columns with full brush sealing
Roller Tube: Fluted, with heavy brackets
Bottom Bar: Composite Aluminium / Flexible
Windows: Optional: window / clear section
Control/Operation: Interlocking / Integration with equipment / Security access
Performance
Operating Speed: 1.0m/s Closing: 0.6 m/s
Wind Load Resistance, EN12424: 450N/m²
Lifetime Expectations: 4,000,000 cycles
Power Supply Requires: 415V 3 Phase 15A
Motor Size: 0.37kW – 0.75kW 2 speed
Auto Close with variable hold open timer:Yes
In-line Safety PE Sensor:Yes
Specification :
For Intense Traffic Flow
Safe & Reliable Operation (CE-MARKED)
Energy Saving
Improved Working Environment
Extensive Service Network